Grüner Mann kündigt an:
"Eine Neue Welt Religion"
Die Ursprüngliche Tradition der Universellen Kosmischen Mutter
Mission
Healing the Planet
Visiting Teacher Programm


Agenda World Tour2014/15
(Kernseite) "Ursprung"
Seine Lehre mit

24 Quellenbüchern, einschließlich 24 pdf-Versionen, mit Links zu seinen anderen Schriften
Dem Grünen Mann begegnen
Autobiographie
Aussagen


MeiMei macht mit!
Das Orakel 2013
Kontaktiere uns
Siehe auch
"Grüne Universität"
Trainings Programm
für Grüne Männer & Weise Frauen
Transformatorium


Join his Wilderness Training 2013
Unser Studio
www.youtube.com/
healingtheplanet
Webcam Live Broadcasts
Online-Teaching
Radio-interview (19.8.2012) mit Rinus van Warven (in Dutch)


Wie gebe ich mein Ego auf?
Interkultureller Austausch
Kosmische Mutter
Sie ist überall!
Unter andere:
Fectio/Anatolien/Indien/ Angkor Wat/China/
Java/Bali/Dayak

Hawaii
Siehe auch: "Grüner Mann & Weise Frau Pilger Netzwerk"
Newsletter


HanMariepedia
die spirituelle Enzyklopädie


Teaching Interview
"STUNDE DER WAHRHEIT"
Exkursion
Unsere Photo Gallerien
Spirituelle Poesie
Omni-versen
Nicht alles wurde bis jetzt übersetzt. Hilfe ist dringend gebeten!


Klicke:
DIE NÄCHSTE SEITE
Übersicht der ganzen website!
In dieser überaus kritischen Zeit
WELTWEITE MISSION
Kosmische Mutter
HEALING the PLANET
Dich selbst heilen, einander heilen, die Welt heilen
AN ALLE
Männer und Frauen, die sich sehnen nach einem neuen
HIMMEL, einer neuen ERDE und
einer neuen GEMEINSCHAFT
KulturErneuerungsBewegung
(Öko-Spirituell, Kosmo-Politisch)
ICH HEISSE SIE WILLKOMMEN!
Wir sind Teil der Erde
Die Erde ist Teil des Universums
Das Universum ist Teil des Göttlichen
Das Göttliche ist Teil der Kosmischen Mutter
He, stehe auf, wir werden den Planeten retten!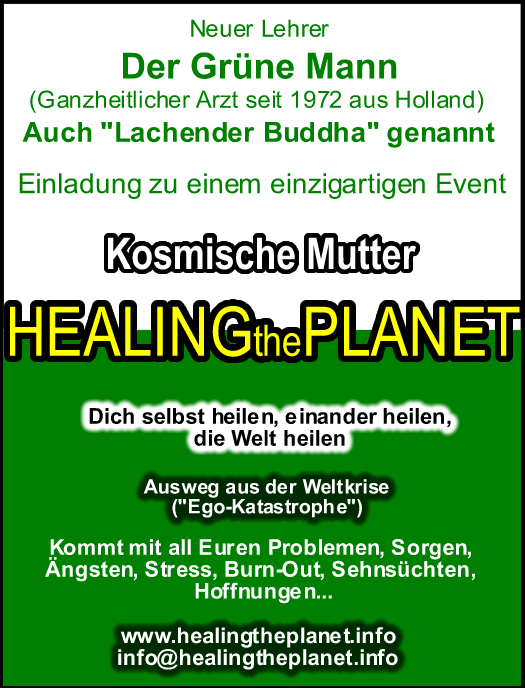 Das Schlüsselproblem:
Das Ego entfremdet vom Ganzen,
bläht sich selbst auf, letztlich vernichtet es die ganze Erde
Nur Neue Männer/Frauen können eine Neue Welt schaffen!
Der Ausweg:
Dein Ego aufgeben um so wiedergeboren zu werden. Mit DEinem Wahren Selbst wirst Du wiederum Teil des Ganzen: Himmel, Erde und die (Neue) Gemeinschaft.....
"Stirb und Werde!" (J.W.Goethe)
.....während Du Dich für "Healing the Planet" einsetzt, bestehend aus Spiritual Service, Earth Service, Community Service und Health Service.
Once you dedicate yourself to the Whole, the Whole
will dedicate itself to you!
"Grüner Männer" & "Weise Frauen" sind die neuen Hoffnungsträger, die Führer, die die Initiative ergreifen eine Neue Welt zu kreiieren
Solange es keine spirituelle Renaissance gibt, wird es in der Welt keinen Frieden geben! (Dag Hammarskjöld)
The Work consists of three steps.
Firstly, the Sermes is making his WorldWide Mission known through talks, teachings and healing.
(Key words: Cosmic Mother Healing the Planet/Travelling Eco-Temple/the Oracle)
See also: Link1, Link2, Link3
Secondly, guidance is given to those who decide to join a "Healing Community", new style "monasteries", based on three pillars: to surrender to the Ultimate, to re-integrate your life, while serving others
See also: Link1, Link2
Thirdly, priority is given to the three months' training of "Green Men & Wise Women". Curriculum: Spiritual Service, Earth Service, Community Service and Health Service
See also: Link1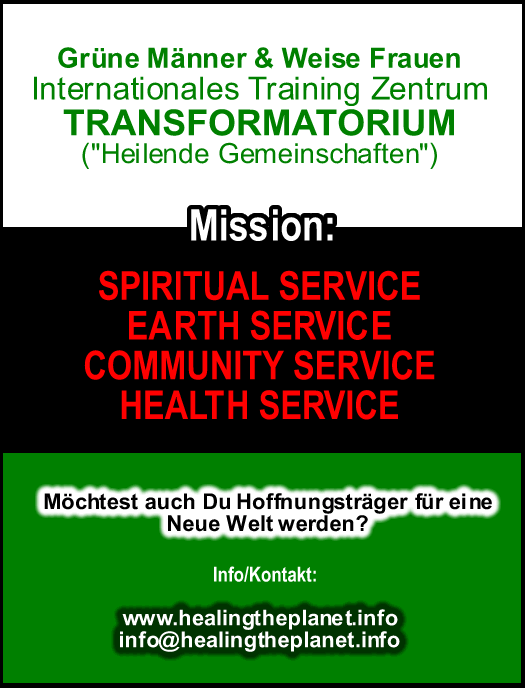 SPIRITUAL SERVICE
Based on the Universal (Integral) Way: Awakening, Personal Integration, Rooted in Heaven & Earth, Breakthrough of the Light, Surrender to the Ultimate (Cosmic Mother), Purification and Service
Study material e.g.:
Spiritual Service: Click "Interview"
"The Ego-Catastrophe"
"The Original Tradition of the Universal Cosmic Mother"
Mutter für Mütter
European Green Men & Wise Women Pilgrim Network
"The New Covenant"
Great Mother Buddhism
Reborn Order
Klicke & Suche Titel in: Quellenbücher
EARTH SERVICE
Based on Eco-Spirituality, being rooted in Heaven & Earth, including promoting sacred groves, nature conservation, permaculture, organic agriculture, vegetarianism/veganism and sustainable energy.
Study material e.g.:
Earth Service: Click "Interview"
Rooted in "Heaven and Earth"
Principles of Earth Service
(formerly "Earth Care")
To Restore the Wholeness of Life
Sacred Heritage
Sanctifying Nature
Earth Ceremony
Omni-Verses
Klicke & Suche Titel in: Quellenbücher
COMMUNITY SERVICE
Based on "As above, so below" and the principle of subsidiarity. It is focussing on A New Society ("Community Democracy"), A New Economy ("Economy of Balance"), New Gender relationships and A New Education.
Study material e.g.:
Community Service: Klik "Interview"
The Ego-Catastrophe
The Self-Sovereign Society
Sociocracy (Kees Boeke)
De Zijnsrevolutie
The Mosuo-Model
MatriTalks
Klicke & Suche Titel in: Quellenbücher
HEALTH SERVICE
Based on A New Health Care, consisting of three bottom-up echolons of Self-Help, Holistic and Technological Medicine. Emphasis is laid on the "Integral (Wo)Man, the unity of spirit, mind/"soul" and body in the context of cosmos and nature".
Study material e.g.
Health Service: Click "Interview"
See: www.vitalworld.org
based on natural, integral,
evolutionary medicine,
with special emphasis on the
"post-antibiotic era".
Furthermore, click www.meihan-guasha.nl
and www.guasha-integraletherapie.nl
with its unique "Integral Guasha
Therapy East-West"
Klicke & Suche Titel in: Quellenbücher
CAREER OPPORTUNITIES
Through our main training you become a spiritual guide, a Guasha healer, a community leader and an earth caretaker.
Study material e.g.
The International Training Center
"Transformatorium"
Healing Communities
Klicke & Suche Titel in: Quellenbücher
REQUIREMENTS
Your should have a balanced character:
sincere, honest, responsible, unselfish, respectful, compassionate.
Addictions of all kinds:
ego, power, money, ideologies, drugs, smoking and alcohol are contra-indications
You should have had some trials in your life, where you have proved to possess these qualities.
Study material e.g.
The International Training Center
"Transformatorium"
Healing Communities
Klicke & Suche Titel in: Quellenbücher
PROCEDURE
You may like to become a friend or a junior. The former do not aspire a career, but wish to support our initiative in all kinds of ways.
The latter applies to the training, aiming at committing him or herself as a Green Man or Wise Women.
Apart from that, everybody who dedicates him/herself to the Cosmic Mother as the Origin of all are called "Originals"
Do you long for a life-long spiritual "career?" In that case you may be interested in becoming a "Reborn"
Info:
Contact us
Und die Kosmische Mutter sagte zu dem Sermes:
"Das Ego ist das Grundproblem der Menschheit.
Sag den Menschen: gib es auf um so erneuert zu werden.
Ihr göttliches Selbst wird danach wiederum Teil des Ganzen:
"Himmel, Erde und die (neue) Gemeinschaft"
Gesegnet sind die Grüne Männer & Weise Frauen:
Hoffnungsträger für eine Neue Welt!
Han Marie Stiekema
Universeller Weisheitslehrer
Servant/Messenger ("Sermes")
Lachender Buddha
Grüner Mann
Hat sich der Welt vorgestellt
Seine weltweite Mission
Kosmische Mutter Healing the Planet
We are not responsible for the content of external links
Viele Texte sind nur in Deutsch geschrieben worden,
also klicken Sie immer "Deutsch"
1997-2011 © Copyright Han Marie Stiekema. All rights reserved.
Everyone may use this website as a source of inspiration. However, since it
is freely given, no-one can claim, copy or derive any text, rights,
position or status from this website.
Last revising: 03/02/14