Städte-Erwachen
Global Tour
Lange her in der Geschichte wurden das Spirituelle und das Weltliche getrennt,
was der Beginn der Degeneration der ganzen Kultur bedeutete. Das
Letztendliche durchdringt bzw umarmt jedoch die Welt ohne
Ausnahme. Ich möchte, daß Du Dich die wahre Ordnung des
Universums erinnerst, von der Du ein Teil bist.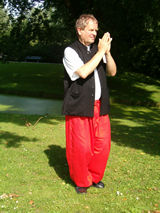 Städte rundum die Welt besuchen die Menschen, die Tiere,
die Bäume, die Blumen, das Gras, die Gebäude,
die Straßen heiligend/segnend/heilend....
One month' program consisting of several parts
Friedenswanderung
By simply walking with feeling awareness - in silent unity with "Heaven & Earth" - having his hands folded in "namaste"*, Han Marie Stiekema Sermes (also calling himself "The Friend") brings about a positive shock to many who meet him. Just by quietly walking he radiates inner peace and joy, reminding people of their own divinity within, while simultaneously making them painfully aware of the craziness of the rat race they think they have to be in. Besides his "wake up call" his walks can be considered as living (spiritual) art, as beauty amidst ugliness, as a great action for peace, as the ultimate body culture, as an example of healing and regeneration, as as a silent (political) protest and yes...as a renewal of the culture. Not surprisingly thus, that people often start spontaneously joining him.
* We call this greeting "Om" (meaning "Womb"), since it expresses gratitude to the all-embracing Cosmic Womb (The Great Mother), from Which we all originate. See also Photo Gallery
"To Restore the Wholeness of Life"
Himmel & Erde Übungen
His walks in your city will be announced through the media: TV, radio, papers etc. Usually the route will be announced as well, which mostly will be through the centre from one park to the other. In the parks a halt will be made giving you the opportunity of joining his "Heaven & Earth Exercises" (HEEX). In the evening a meeting will be held, in which Han Marie Stiekema will be holding a spiritual talk, being available to answerering all your questions. His contribution to your cities' wellbeing is his free Personal Health Plan, which is available to everyone.* On request his activities may become extended. Possibilities are manifold, varying from a training in the "Heaven & Earth Exercises", meditation ("Ma-Zen"), MatriTalks, group consultation for all health issues, a retreat (see The Integral Way) etc. Please consult our Newsletter.
* See: www.vitalworld.org Step 1.
Persönlicher Gesundheitsplan
Restoring Wholeness starts with our own health. The Personal Health Plan is unique in a sense, that it will establish optimal well-being in just 6 weeks. As said above, the Plan is freely available in the internet. It consists of 10 steps, including optimizing your nutrition, digestion/intestinal flora, fitness/breathing/sweating, cell-function, detoxification/de-acidification, liver function, immune-system and bowel and kidney functions, everything in just ONE program.* During the City Awakening the Personal Health Plan will be promoted to all citizins through talks, meetings, the media etc.
* See: www.vitalworld.org Step 1.
Versöhnung
One of his main objectives is to contribute to the reconciliation of faiths and religions. His is doing this by emphasizing the "Maternal Dimension of God" (in talks) (also called "Remember! Your Maternal Origin"), as described in the various traditions. The Motherly Aspect is the all-embracing Essence of the Divine, including everybody and everything withour exception. By doing so, the wholeness of existence becomes a priority. This is especially important in a time in which religious conflicts are feared to destroy the entire civilization. Not surprisingly thus, that The Friend is urging all kinds of groups, organizations, centres, universities to take notice of his enlightening contribution to the well-being of all.
See: Mother & Sons
Eine Neue Ära
This may culminate in the recognition of the Great Mother, Cosmic Womb or Vacuum as the Ultimate Reality. Not "God" created the world out of nothingness, but Nothingness is continuously giving birth to the Divine as well as the world. Especially those, who have abandoned patriarchal religion may take refuge in Her. In the context of further disorientation of society, the "Father" is not going to save you. On the contrary "he" is part of the problem, rather than the solution. That's why the Great Mother has revealed Herself as the All-Embracing One. The Friend in inviting everybody to listen to Her story. The talks consist of "Herstory" (historical/mythological); the Great Mother as the Ultimate Reality (spiritual); The Mother and gender (psychological) and the Mother and the Transformation of Self & Society (socio-cultural).*
* See: MatriTalks
Retreat
One of our favorites is the "The Integral Way/Sanctifying Nature Retreat". In this intensive retreat we spend 10 days in nature. The program consists of three sessions of the "Heaven & Earth Exercises" a day, completed by Ma-Zen, contemplation, a spiritual talk (MatriTalks) with Q&A, (fruit) fasting and guasha purification*. Mostly the retreat will be organized as an extension of the City Awakening. However, planning in advance is also possible. The locations may vary. We prefer unspoilt places where natural beauty and silence prevail. If you would like to organize a "City Awakening" in your city/town or a "Sanctifying Nature Retreat", please contact us.
* See: www.guasha.8m.com
"Lebensbaum"
Lebende (öko-spirituelle) Kunst
We also like to emphasize the art-aspect of our work. It is called "Tree of Life". The essence is this. While doing the exercises sooner or later "something within" is taking over. The movements are not steered by conscious effort anymore. From that moment on - from the Moment you are reconnected to the Source - the movements will be not only effortless, but will be a "channel" of primordial energy. All kinds of things may happen. Either your movements become incredibly subtle, gentle or become "explosive", ecstatic and all possiblities in between. You become an instrument in "re-creating" nature (and yourself). The fascinating thing is, that while moving according to the same principle, the direction of the movements is different with every individual. The group is like a forest, consisting of individual trees. It is a wondrous example of very concrete "unity in diversity". Hence, the "Tree of Life" project has great (multi)cultural meaning*. It therefore could become a very valuable contribution to the cultural life in your city or town.
* Individuals, groups, centres, organizations, theaters, museums, schools, municipalities etc. etc. may contact us for setting up a "joint venture" e.g. a "City Awakening" e.g. "Tree of Life" project in your own city or town.
Lebensschule
We are at a critical moment in history. The question is, whether manking will make a "new leap in evolution" or face degeneration. It means that we have to do everything in our power to turn the tide. The aim of the City Awakening is just that. It offers every (city)community the possibility of contributing to the Transformation of Self & Society. We do this through our "School of Living" EducationalCultureRenewalInternetSelfstudyProject*. This consists of a training in which you develop yourself in Spiritual Service, Health Service and Community Service. By joining it you will become part of a worldwide effort. So don't hesitate. Answer our call!
* See: A New Training.
Ansätze zur KulturErneuerung
In dieser überaus kritischen Zeit
TRANSFORMATION VON
MENSCH & GESELLSCHAFT
Eine Neue Spiritualität
Das "Ewig-Weibliche" als das Fundament von
Spiritualität und Religion
Ein Neues Weltbild
Der Mensch verwurzelt in "Himmel", Erden und
der (neuen) Gemeinschaft
Eine Neue Gesellschaft
Sich basierend auf Selbst-souveränität, Subsidiarität
und Gemeinschaftsdemokratie
Eine Neue Gesundheitsfürsorge
Bestehend aus den drei Echelons von Selbsthilfe,
Ganzheits- und technologischer Medizin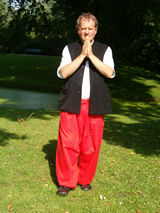 The City Awakenings are the latest of a series initiated by The Friend.
The difference with the previous is, that the current walks are IN
the city rather than AROUND it. In case of historic interest,
please, open the City Awakenings (1 & 2) for an
additional wealth of information.
If you want to organize a City Awakening in your city,
please contact the international coordinator


(Zurück zum Anfang der Han Marie Stiekema's Website)
1997-2004 © Copyright Han Marie Stiekema. All rights reserved.
Everyone may use this website as a source of inspiration. However, since it
is freely given, no-one can claim, copy or derive any text, rights,
position or status from this website.
Last revising: 11/11/13